Guestblog: Semper with a twist
Last week you could read about the differences between the Hibernis, Semper and Omni Tempore in this blogpost.
Today MoonStar is showing you a Semper Sweater with a twist.
One of the features of the Semper Sweater is the hood with a split. What if you would make it symmetrical?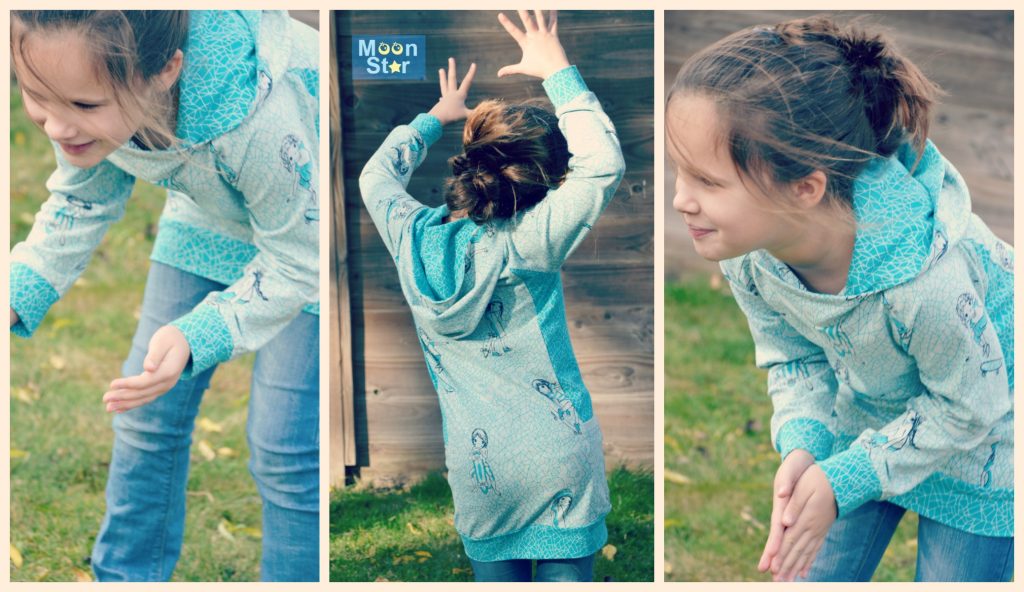 It's really very easy! Only thing you need to change is the hood parts. Instead of cutting two different hood parts, you cut the part with the long end 2x twice (once your main fabric and once your lining fabric). You will have this on your cutting table:
Now you just follow all the instructions and when you come to the hood, you attach the both front sides like the instructions say to attach the long side. No difference for boys and girls, unless you want to play with which side should cross over on the outside.
For this version I used the dress add-on pieces. In case you don't have these pieces, you can find them in the files section of the Sofilantjes Sew & Show Facebook group.
I added a little bit of length to the pockets because her short arms would otherwise not reach them in this length.
She falls in the size 7 for chest, but size 8 for length. Because this is a unisex pattern the sweater is quite loose.
It really shows how important it is to measure your child and compare it to the charts.
The side panels with the pockets are one of my favourite features of the Semper Sweater!
I just had to sneak in this picture… Little Happy brings so much joy to our family!
---
---
Buy more save more
(PDF patterns only)
Spend €25* or more and save 10%.
Use code: SAVE10
Spend €45* or more and save 20%.
Use code: SAVE20
Spend €65* or more and save 30%.
Use code: SAVE30
(Sale items excluded)
* Excl. Taxes
---
Recent comments
---
Archives
---
---
Thank you for visiting
Thank you for visiting our website. This website and all its content are copyright protected. Please ask permission before sharing any pictures or articles, especially when a child is shown in the image.