Hi there! Welcome to my first blog post as part of the Sofilantjes blog team! So tell me, who do you sew these gorgeous Sofilantjes patterns for? For your (grand)children? Yourself? Or maybe even for your husband? You can use Sofilantjes patterns for your whole family! Today I show you how I used just one pattern for our whole little family, while still creating all different looks.
So this is us. My kids, my husband and myself all wearing the Omni Tempore! All the same, but yet so different. I also used the same sweat fabric to make it really alike, only the colors are different. Let's start with a closer look at the ones I made for my kids.
This is the version I made for my little boy. For his Omni Tempore I used the waistband-option, the pocket-option and the collar-option. For the pocket and the collar I decided to line it with the wrong side of the same fabric. I love the effect this gives to the look, especially at the pocket with just a little bit of the lining peeping through.
Same pattern, whole different look though! The neckband is not a featured option in the Omni Tempore pattern, but I decided to just leave out the collar or hood for my daughter's version and finish it with some ribbing instead. To do so I used 70% of the neck opening to decide the length of my neckband. For this version I didn't use the waistband-option but cut the sweater at the hemming line and hemmed it instead. Add a heat transfer application and it's something quite different at once!
For my husband's Omni Tempore I used the hood and the waistband options. For the lining of the hood I once again used the wrong side of the same fabric. The waistband I adjusted a little bit to adjust for stretch. The fabric wasn't really that stretchy so I cut a waistband at 90-95% of the bottom measurements.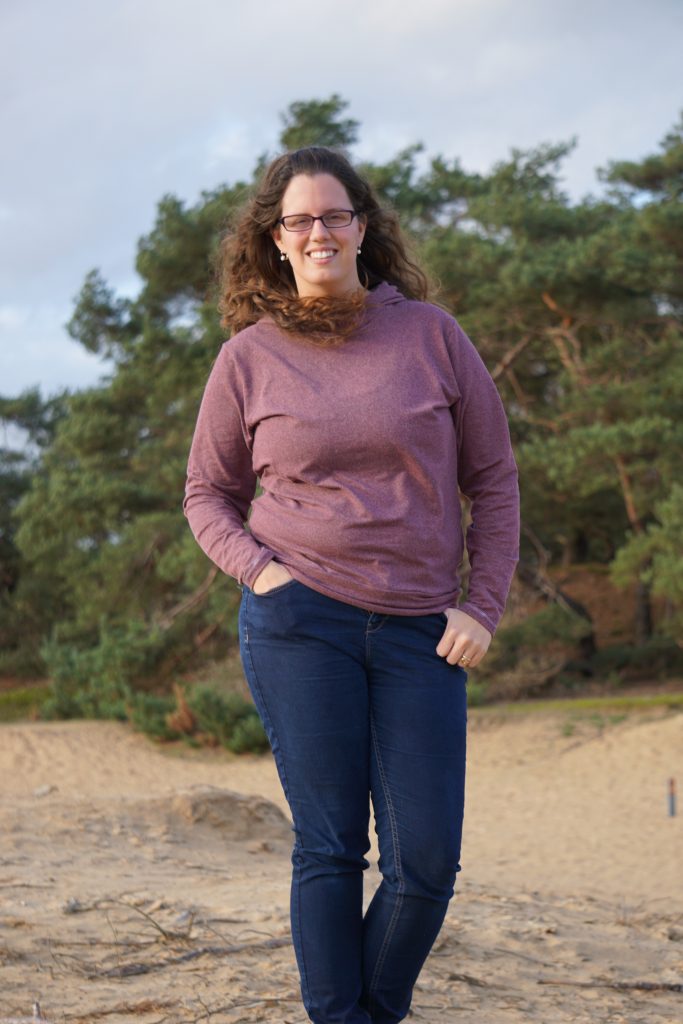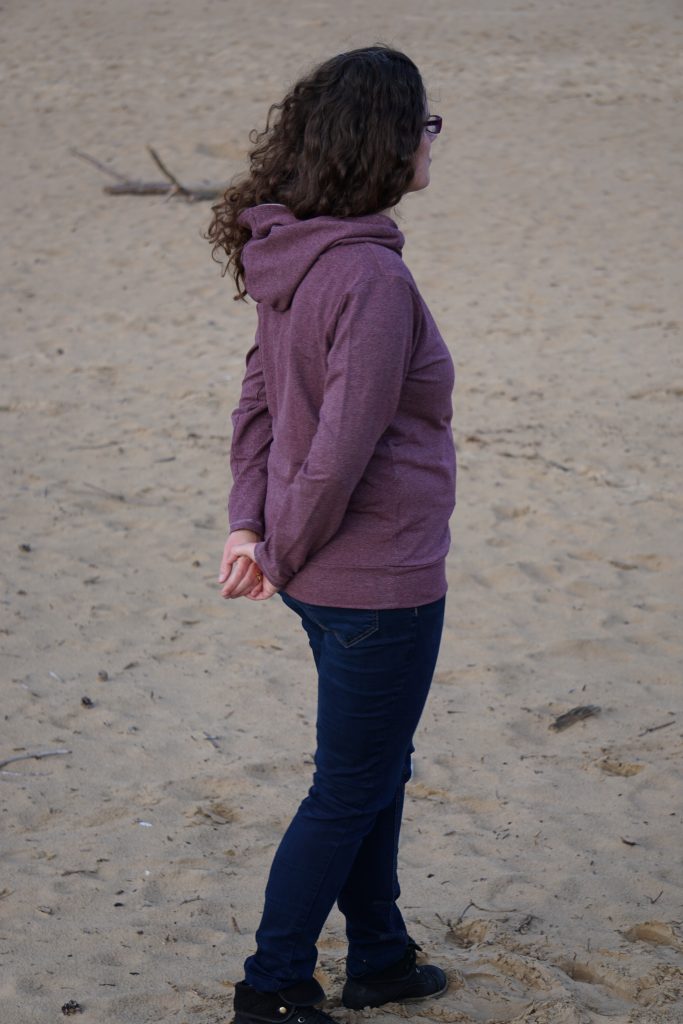 And last, but not least, my own Omni Tempore! It's actually all the same as the one for my husband, except for the color. I love the fit of it. It has a comfy fit just like a sweater is supposed to have. And isn't it great when a pattern has all these different options so you can use the same pattern but still create a different look? And then I even haven't had the chance to show all the options it comes with, like different sleeve lengths and a dress add-on in the kids pattern!
Don't own this pattern yet but want to? The affiliate links below will bring you to them!
– Kids version –> in Dutch, English or French
– Adult version –> in Dutch or English
– Bundles –> In Dutch or English
Happy sewing!
Love Cindy
"Miss Maakt"