In February 2018, we released the Vivax Top and Dress. Immediately we were asked for the adult version. We took some time to work on it, but it's here now, and you'll love it. It has the same options as the child version, but there's a bonus… a cowl add-on!
For those unfamiliar with the Vivax Top and Dress, we would like to tell you a little about it. The Vivax is available in sizes 32 – 54. It has three neckline options (including the cowl add-on), five sleeve options, two length options, and a fun pocket!
Let's take a look at some.
Collar:
Sleeves: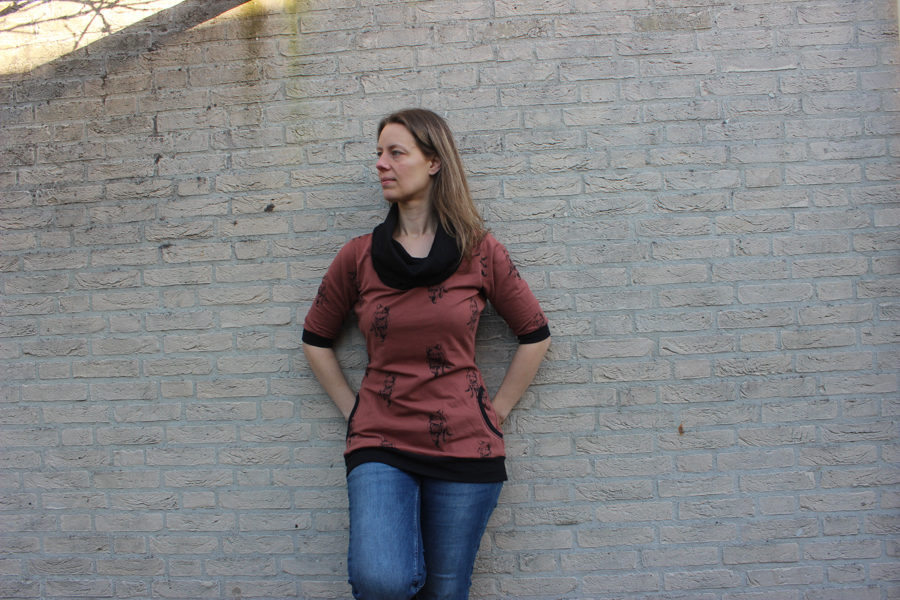 Twins:
The Vivax will be available at the release price of €6,50, excluding taxes, until March 21 0.00 CET/ March 20, 7:00 PM EST. But wait, there's more! We are also including the child version for €7,38 and a bundle for €14,88; these prices exclude taxes  You can get your copy using the links below.  These are affiliate links so that the author will get a small percentage of the sale at no cost to you.  If you are a Sofilantjes Sew and Show member, join us to show off your Vivax Top and Dress.
Volwassen
Dutch –  https://www.sofilantjes.com/product/vivax-top-en-jurk-volwassenen-gratis-kol-add-on-nederlands/?affiliates=4
English – https://www.sofilantjes.com/product/vivax-top-and-dress-adult-free-cowl-add-on-english/?affiliates=4
French – https://www.sofilantjes.com/product/vivax-haut-et-robe-femmes-francais/?affiliates=4
Child
Dutch – https://www.sofilantjes.com/product/vivax-top-en-jurk-nederlands/?affiliates=4
English – https://www.sofilantjes.com/product/vivax-top-and-dress-english/?affiliates=4
French – https://www.sofilantjes.com/product/vivax-haut-et-robe-francais/?affiliates=4
Bundels
Dutch – https://www.sofilantjes.com/product/vivax-top-en-jurk-bundel-gratis-kol-add-on-nederlands/?affiliates=4
English – https://www.sofilantjes.com/product/vivax-top-and-dress-bundle-free-cowl-add-on-english/?affiliates=4
French – https://www.sofilantjes.com/product/vivax-haut-et-robe-ensemble-francais/?affiliates=4