Guestpost by Patricia from MoonStar – WonderMirakel
It was quite a busy time @ Sofilantjes. The Orbis Skinny Harem Pants got back from One Thimble, and a brand new pattern was released: the Cicero Jacket.
Today I'll show you a special version with loads of love… After all, it's Valentine's day!
So let's start with some love between siblings.
These two melt my heart!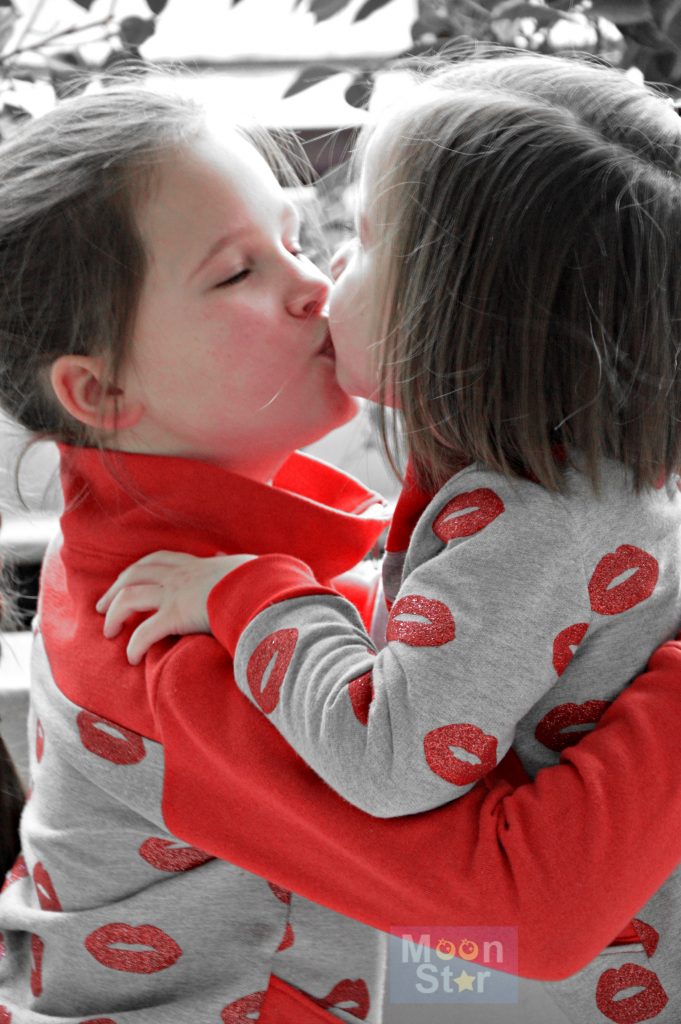 This fabric was instant love for all of us.
When I bought it I had no idea what to make with it. Only a week later the testers call for the Cicero Jacket came and so my project for this fabric was set.
Next love to talk about: my love for Sofilantjes patterns!
Truth be told, some patterns are loved more then others, but all of them are loved in this household. If you don't believe me, hop over to my personal blog, my Facebook page or my Instagram to see all the Sofilantjes Patterns I've made in the past.
The Cicero Jacket is the most recent love to add.
My eldest was the first one to get this loving jacket. It was during the pretest and I made the colorblock version.
This version made me think about making the pockets in the sideseam, because she said it would be easier to acces the pocket that way.
I know I'm not the only one with this idea. At least one of the other testers made one…
During testing some minor tweaks were done to the pattern. So when Anne needed a second version of the size 18m it was the perfect moment to make a twinning Cicero. I also took this opportunity to make that inseam pocket on the colorblock version.
It's actually very easy to do this. I'm sad I didn't take pictures to explain.
Last but actually my most important love: both my girls!
Enjoy watching them have fun together.
Big sis still needs to get the hang of dabbing herself, but the fun they had was great to watch!
If you haven't purchased the pattern yet, you can go to this (affiliate) link for the English Cicero Jacket pattern.
Indien u het patroon nog niet aankocht, kan u via deze (affiliate) link naar Nederlands Cicero Vest patroon gaan.
Join the "Buy… Sew… Show… Win" contest in our Sofilantjes Sew & Show Facebook group. More details on it can be found there.
One final note: we also love all of our readers!