The Regem is the perfect shirt for scraps or to use during upcycling, but of course it gives great results with new fabrics as well. It is a quick and simple sew which gives a sophisticated result. In the Facebook group, we saw a few people that were a bit thrown off guard by the seam allowances for the color block. The seam allowances stick out and create some strange looking bumps. Today, we are showing how to sew the color block in extra detail. This pattern is perfectly suitable for beginners, so if you have some trouble, just look at these pictures and it should all become clear.
In the graphic, you can see the pattern pieces that you will need for the color blocked shirt. You can also see that if you would put the piece together such that they touch, the fabrics would not be a perfect fit. This is normal, the fabrics are only a perfect fit when you put the red lines on each other, that is the actual line that you will be sewing.
To correctly sew the back, you will have to align the corners of the upper color block with those strange looking extra bumbs on the lower body piece. Just start pinning on the sides and work towards the middle.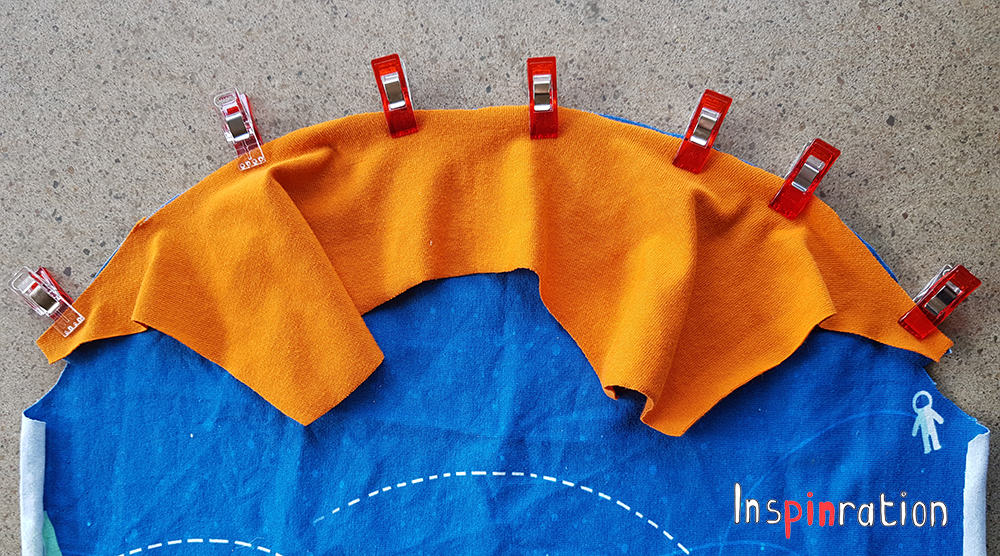 After pinning the pieces together, make sure that you sew exactly on the one centimeter seam allowance. That way the extra bumps in the lower body piece will disappear and you will create a perfect curve as shown in graphic 3 from the instructions.
For the front color block you again align the color block to the strange bump. On one end the color block will stick out from the other end of the body piece. This is normal. This will not be visible later. Again, make sure that you sew exactly on the one centimeter seam allowance. When you sew exactly on the seam allowance you will not have any bumps in your finished front and your finished front should look as smooth as graphic 5 from the instructions.
You can do it!