When it comes to sewing for beginners, where to start with your notions and other items can often be a big questionmark. Needles, thread and? Let us help you get started. 
A list of sewing notions every beginner needs
No. 1.  a Seam ripper 
Every sewist needs a seam ripper. You develop a love hate relationship with this item but you can't do without.  If you've made an error in your stitching, unpick them and voila. You're ready to start over and forget it ever happened.   
No. 2. Fabric scissors 
We can't cut our fabrics without a fabric scissor. Yes there are these handy rotary cutters but you'll still need the scissors now and then. Fabric scissors are designed to cut through all sorts of fabric. They are extremely sharp. Note that there are a lot of different kind of fabric scissors. take your time and find the one you like and need for your project. and tell the family to not ever use them! 
No. 3. Tape measure 
A tape measure is a must for all sewits. Measuring your sizes, lengths and fabric is one of the most important things you need to do before starting your project. Always measure twice before you start cutting. It will save you a lot of time and money (fabric). The last thing you want is sew up a nice item, only to find out it's to be too small or too big.  
No. 4 Magnetic pin holder 
You could use a simple pin cushion or cup, but if you are anything like me you'll tip over the cup and have your pints all over the desk or floor. With a magnetic pin holder I do not have that problem and picking the pins up is a matter of seconds.   
No. 5. Chalk or washable markers 
With almost every project you'll sew you will need to add markings on your fabric. A regular pen will not wash out and destroy your fabric. Chalk, or some washable markers won't ruin your fabric.  
No 6. Thimbles / Band-Aids
By the time you get more experienced you can put the band-aids away or at least put them further away. You'll be working with sharp objects. So obviously one day you'll prick your finger. Or cut it with a rotary cutter like I do.  It's not a big deal, but bleeding all over your gorgeous fabric is. Use a thimble when hand sewing, and keep a few band-aids close.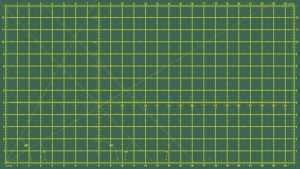 No 7. Cutting mat 
This item is up for debate but in my opinion if you don't want to ruin your table or floor, I suggest investing in a self-healing cutting mat. Note that you need the green mat (for sewing) and not the blue one if you are using a rotary cutter or you'll destroy your blades in no time.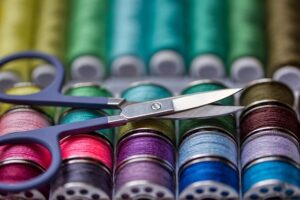 No. 8 Thread
A basic cotton thread to begin. It is recommended to get a pack of variety colored thread so you'll have a thread that matches colored fabrics.
no. 9 Needle threader 
Also one for debate. If you have a steady hand like me you'll manage without. If not this might just be your new favorite thing ever. It will save you a lot of time and frustration.   
No. 10 Lots of lovely fabric 
You'll learn that hoarding fabric is a hobby on it's own. Find some good stores near you and add a few great online stores to that. Purchase a few beautiful fabrics but also purchase some fabric to practise on first. In time your stash will grow.
No. 11 a sewing machine
Yes there it is, so be able to sew you need a good sewing machine. I suggest to not start with a cheap one. If you want to start your sewing journey on a good way, find a better sewing machine. Having a tight budget, get a second hand machine. There are some great groups on Facebook where you can find great second hand machines. 
No. 12 Patterns
When starting to sew, start with a good sewing pattern. You could buy one of those sewing magazines but their explanation is limited. Looking for more guidance, buy a PDF pattern. You can start using some free ones before buying. 
No. 13 Printer
When starting to sew with PDF patterns, having a printer is needed. This, unless you have a copy shop nearby. Want to be a little more green? Consider using a beamer. 
Let us know if you liked this list and what other lists you'd like us to write for you.
xxx Anne