Woohoo! We are happy. The last two patterns for this year are released today…………..
Meet the Otium Sweater and Otium Girls!
When designing the Otium Sweater one of my testers told me she needed this shirt for her baby girl and since I am not great at saying no…… The Otium Sweater gave birth to a baby girl… 😉

The Otium is a relaxed fitted shirt with a wide neckline and three sleeve length options. Long, 3/4 and short. The short sleeve is hemmed and the 3/4 and long sleeve have a sleeve cuff. The bottom of the shirt is finished with a waistband. The length of the shirt is a little longer than a normal shirt. It is designed to fall on your hips (at an average body length of +/- 170 cm) so it will cover our backs when bending over. Being a mommy myself this is a big plus.


The Otium has two more fun options. Create a nice 'hands free' shirt with the diagonal pocket option. This feauture is not only great for color blocking but also very handy to hold dolls and teddy bears or to hold your wallet. I also use it to hold a few diapers when I'm taking my baby upstairs to change her diaper. Or just to hold that extra thing I want to take with me when my hands are already full.


Would you rather create a sweet or fun (think Christmas…) look, use the low back with bow. Or, for the adult version, leave the bow of. You could even decide to use the low back on the front of your shirt and create a nice scoop neckline.

To create a more custom fit for your own Otium Sweater (adult) we've added information on how to choose the perfect size and how to costumize fit by blending sizes. We've also added a few tips and tricks to both patterns to create the perfect diagonal pocket. You'll also find information on how to shorten or lengthen the bodice and/or sleeves to your own desire. And how to lengthen to create a tunic.


The Otium Sweater comes in sizes XS to XXXL and the Otium girls in sizes 12M/80 to 14Y/164.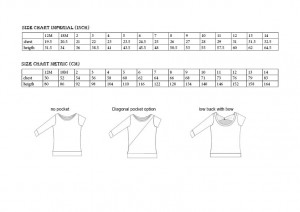 Now for the best part. Both patterns are on SALE from today to tuesday the 15th. You can buy the Otium Sweater for only $7 (US) and the Otium girls for only $6.50 (US) or buy both in the bundle for only $ 13 (US)! All patterns can be found in our Shop.